26/09/2016
AIPPI Event 2016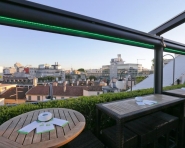 Last week, Milan has hosted over 2000 professionals of the IP sector. They met in the design and fashion Capital for one of the most exclusive and important IP congress worldwide.
For us, AIPPI has been a great opportunity to meet clients and partners in an wonderful and exclusive location for its view. On Monday 19th of September the terrace of La Scala Hotel in Milan, has been the perfect location to host all the guests after the Congress tasting exquisite Italian Delicatessen.
We are grateful to all our guests that have shared a lovely evening with us. Thank you.